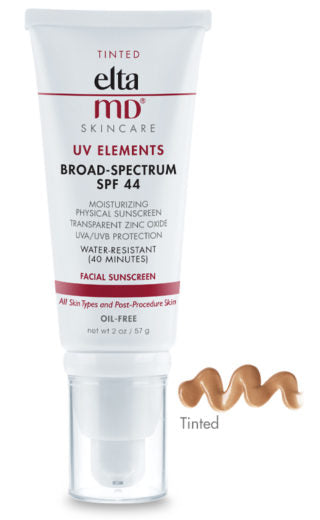 EltaMD UV Elements is a 100% physical sunscreen in a tinted, moisturizing base. It is gentle for even the most sensitive skin types, including post-procedure skin. Its chemical-free actives, zinc oxide and titanium dioxide, provide safe but sure sun protection. These mineral-based UV filters work with ultra-hydrating hyaluronic acid to protect and hydrate the skin. UV Elements has a universal tint that beautifully enhances most skin tones for a more youthful appearance.
10.0% transparent zinc oxide, 5.5% titanium dioxide.
Antioxidant protection combats skin-aging free radicals associated with ultraviolet (UV) and infrared radiation (IR).
Chemical-free UV filters.
Hyaluronic acid boosts moisture-retention for a smoother, more youthful appearance.
Water-resistant (40 minutes).
UVA/UVB sun protection.
Dye-free, fragrance-free, gluten-free, oil-free, paraben-free, sensitivity-free and noncomedogenic.
Size: 2.0 oz.
Availability:
Many In Stock