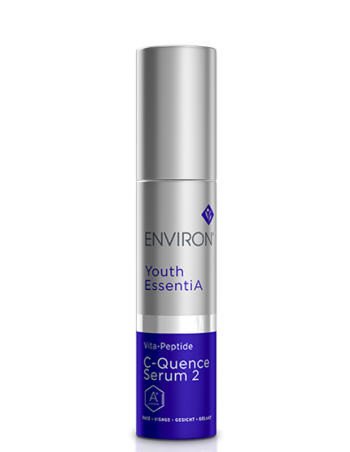 Environ Vita-Peptide C-Quence Serum 2 contains medium levels of vitamin A, C & E and is the second level in Environ's Vitamin A step-up system.
This vita-peptide enriched serum allows for the significant reduction of photo-aging, pigmentation scars and blemishes—with its highly effective ingredients working together to help combat the visible signs of aging.
Moisturizes and assists in softening the appearance of fine lines and wrinkles.
Improves skin complexion, tone & texture.
Contains Environ's signature complex of essential antioxidants, vitamins A, C, E and peptides to accelerate restoration of skin cells.
Helps reduce signs of photoaging, pigmentation blemishes and scars.
Increases production of collagen and elastin to firm up the skin.
Penetrates the skin deeply allowing for the effective reduction and lightening of pigmentation marks.
Enhances the beneficial effects of vitamin A and C already in the body.
Size: 1.2 fl. oz. | 35 mL
Availability:
Many In Stock