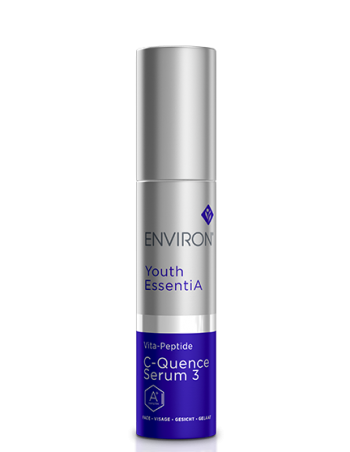 Environ Vita-Peptide C-Quence Serum 3 is the third level in Environ's signature Vitamin A step-up system and contains higher levels of vitamins A, C & E to maintain a radiantly youth appearance. C-Quence 3 is intended for use by those who have already acclimatized to C-Quence 1 & 2.
The combination of Environ's highly effective ingredients helps the skin take on an even healthier, more radiant glow.
Moisturizes and assists in softening the appearance of fine lines and wrinkles.
Improves skin complexion, tone & texture.
Contains Environ's signature complex of essential antioxidants, vitamins A, C, E and peptides to accelerate restoration of skin cells.
Helps reduce signs of photo-aging, pigmentation blemishes and scars.
Increases production of collagen and elastin to firm up the skin.
Penetrates the skin deeply allowing for the effective reduction and lightening of pigmentation marks.
Enhances the beneficial effects of vitamin A and C already incurring within the body.
Size: 1.2 fl. oz. | 35 mL
Availability:
Many In Stock